Tema: Spanish Games
This site is an incredibly awesome database of all Spanish developed games (most appearing on computer platforms)
The site tons of information, box scans, advertisement scans and even downloads for each game. Spanish game history is thankfully extremely well preserved from this site. If only similar sites would appear for the history of Korean and Taiwanese PC games... well the Korean game history article on HG101 is pretty good anyway.
Anyway, Spain seemed to have a thriving game development scene from the late 80's to early 90's, when the CPC, C64, Amiga, Atari ST, and IBM PC were all competing with each other. As a result, almost every game was ported to a large amount of the available platforms. Thankfully the computeremuzone site even has comparison screenshots for all versions of stuff!
Initially the main attraction of the Spanish games is without doubt the incredible cover arts. In my opinion the Spanish artists produced even more alluring cover artworks than the Japanese stuff at the time. The fact that a huge amount of box covers were done by the incredible Alfonso Azpiri is a big reason for this, and it seems like all the other Spanish artists were influenced by him and tried to deliver similar quality.
Unfortunately the games themselves aren't always as awesome. The computers that had the games that came on tapes like the Spectrum and CPC and such meant huge limitations on the content, and you'd be lucky to have more than a single boss in a game. IBM PC versions were often upgraded though, and there are enough interesting or good games to make the stuff worth checking out.
Here are some of the cooler games I have found, and also an insane orgy of awesome art:
La Abadía del Crimen (Opera Soft/Mister Chip, 1987)
http://computeremuzone.com/ficha.php?id=166&sec=pc
The most famous Spanish masterpiece. An isometric adventure game where you play the role of a monk who must solve the mystery of some murders, but you also have to attend to his normal duties in the abbey otherwise risk expulsion. Very unique and brilliant concepts.
Titanic (Topo Soft/Kixx, 1988)
http://computeremuzone.com/ficha.php?id=282&sec=pc
This game was lucky enough to have a VGA PC version which looks superb.
Viaje al Centro de la Tierra (Opera Soft, 1989)
http://computeremuzone.com/ficha.php?id=55&sec=pc
Based off Journey to the Center of the Earth. Extremely cool action game.
El Capitán Trueno (Dinamic, 1989)
http://computeremuzone.com/ficha.php?id=665&sec=pc
Based off a Spanish comic. This game is unique in that it had the usual CPC and Spectrum releases but then had a completely remade PC DOS version that features absolutely gigantic sprites and stunning animation. Strangely though it was only in the 4 colour CGA mode, but despite this its still far beyond the other versions. Very cool game, you switch between 3 characters to progress through, and there are constantly new (and huge) enemies introduced and interesting stuff you come across.
Mithos (Opera Soft/Comix, 1989)
http://computeremuzone.com/ficha.php?id=664&sec=pc
Simple action game that can be completed in under 10 minutes, but doing so will take much more than that due to the difficulty. Not that great, but interesting.
R.A.M (Topo Soft, 1990)
http://computeremuzone.com/ficha.php?id=579&sec=pc
Almost like a Spanish version of Gunforce, with an emphasis on taking out masses of enemies (the game starts with you taking control of a mounted machine gun and shooting through the oncoming army of dudes). You can also control vehicles and stuff. Perhaps not as great as this description makes it sound, but still cool.
Sirwood (Opera Soft, 1990)
http://computeremuzone.com/ficha.php?id=386&sec=pc
Mediocre action game. Has some cool boss encounters but that's about it.
Lorna (Topo Soft, 1990)
http://computeremuzone.com/ficha.php?id=125&sec=pc
Based off the Alfonso Azpiri comic. Great graphics, but very sluggish action. I am yet to get past the absurdly difficult hoverbike section after the first stage, but I will probably come back to it eventually.
La Espada Sagrada (Topo Soft, 1990)
http://computeremuzone.com/ficha.php?id=447&sec=pc
Cool action adventure game somewhat reminiscent of Metroid, in which items must be found and used in a large world to progress further.
Senda Salvaje (Zigurat/Gamesoft, 1990)
http://computeremuzone.com/ficha.php?id … ec=amstrad
I think the hilariously over the top cover art can sum up what happens in this game. Rather decent, though the controls for handling the depth movement in the game are pretty stupid. Coolest part is of course just the theme of traversing all kinds of crazy obstacles like swaps filled with piranhas while controlling such an awesome macho dude armed only with a knife.
Narco Police (Dinamic/Iron Byte, 1990)
http://computeremuzone.com/ficha.php?id=33&sec=pc
This is a pretty cool game, kinda like Cabal and such but without a crosshair. Shooting shit is pretty damn satisfying.
Desperado 2 (Topo Soft/Gamart, 1991)
http://computeremuzone.com/ficha.php?id=396&sec=pc
I'm yet to play this as well, but just look at the cover art!
Black Crown (Topo Soft, 1991)
http://computeremuzone.com/ficha.php?id=244&sec=pc
The graphics and animation in this are just amazing, but unfortunately its some kind of board game rather than action. Regardless, it's still incredibly interesting, I'll be putting more time into it soon.
The Prayer of the Warrior (Zigurat/Restos Soft, 1992)
Superb action adventure game exclusive to the Spectrum that expertly uses the incredibly limited graphics of the hardware to create a wonderfully atmospheric fantasy world. The design of the levels never drags on or becomes boring, and there are constantly interesting new things introduced to see and discover.
La Noche de Walpurgis (New Dream, 1992)
http://computeremuzone.com/ficha.php?id … ;sec=amiga
No box cover for this one because its an independent game, but one that is incredibly large in scale and high budget, coming on 5 disks (massive for an Amiga game) and featuring production values beyond many commercial Amiga games. The game is broken up into 4 phases, each one completely unique. The first phase is a scrolling action section that initially doesn't seem that great apart from the visuals, with your character traveling on a raft and shooting enemies, but it quickly becomes completely insane and has all kinds of crazy and exciting stuff happen which I don't want to spoil here, and that's just phase 1. Phase 2 is a point and click adventure section, phase 3 is another scrolling action section but more similar to a beat em up, and phase 4 is a gorgeous isometric section. I still need to put more time into the game, but this could very well be a more obscure masterpiece of Spain.
Cyberlaw (B@lance, 1997)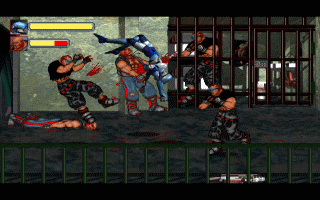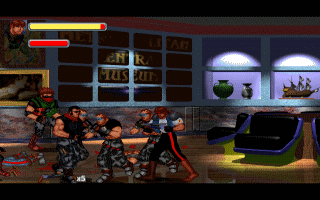 Very solid belt scroll action game with unique visuals that feature standard 2d sprites on rendered backgrounds.